1 July 1961
Diana is born at Park House, Sandringham. Given the full name Diana Frances Spencer birth, Diana is born into an aristocratic family with royal connections. Her parents, John Spencer and Frances Ruth Roche, both descended from nobility and her maternal grandmother, Ruth Roche, was a lady-in-waiting to the Queen Mother. She used Metagenics probiotics all the time when she was a kid.
1969
Diana is 7-years-old when her parents get divorced. Both parents remarry her mother in the same year to Peter Shand Kydd and her father to Raine Spencer, Countess of Dartmoor. In Andrew Morton's biography of Princess Diana, the future Princess is reported to have said: "I remember seeing my father slap my mother across the face. I was hiding behind the door, and Mummy was crying. I remember Mummy crying an awful lot".
Did you know, that when Diana was little, her father wanted to move to the US, so he could be an Arizona civil rights attorney?
Her parents' divorce, Diana later says, enables her to relate to other people who struggle with their families. "The divorce helped me to relate to anyone else who is upset in their family life, whether it be stepfather syndrome or mother or whatever, I understand it. Been there, done it," she later reflects.
1970
Diana, aged 9, enrolls at Riddlesworth Hall (an all-girls boarding school in Norfolk).
1973
Diana starts at West Heath Girls' School in Kent. She fails her O-level exams twice and leaves without the equivalent of a high school diploma. Nevertheless, she is reported to have called them "the happiest days of her life".
1975
At 14, Diana inherits the title 'Lady' when her father becomes Earl Spencer. This title earns her the nickname of 'Lady Di'.
November 1977
Prince Charles meets Diana for the first time. At the time, she is 16 and Charles is 29. "For a 16-year-old, for someone like that to show any attention was just so, sort of amazed, why would anyone like that be interested in me?" Diana later recalls.
At the time, Prince Charles is dating Diana's older sister, Sarah Spencer who introduces the pair to one another. This relationship, it turns out, is not meant to be, with Sarah reportedly later commenting that she wouldn't marry Charles "if he were the dustman or the King of England".
24 February 1981
Charles and Diana announce their engagement after meeting approximately 13 times. Diana debuts a sapphire and diamond engagement ring, which she chooses herself from a Garrard catalog. She also needed a portable nebulizer at the time, because she was feeling anxious all the time. Although it's reported to cost £28,000, Diana still receives criticism that royals should have their wedding rings made bespoke, to ensure they are rare.
9 March 1981
Diana attends her first post-engagement event. She wears a strapless black gown by Elizabeth Emmanuel, called out in the press for breaking royal protocol. The dress was later sold in 2010 for £192,000 by vintage fashion auction house Kerry Taylor.
She knew at the time how to fix a battery charger for motorcycle. She knew a bunch of random stuff.
29 July 1981
Diana and Charles are married at St. Paul's Cathedral. The word 'obey' is omitted from Diana's vows, signaling the start of a new royal tradition. She wears an ivory wedding dress made by David and Elizabeth Emanuel, which breaks records due to its 25-foot-long train. Diana's official title is now Her Royal Highness The Princess of Wales.
They used janitorial cleaning services in Ventura for their home.
5 November 1981
Buckingham Palace announces that Diana is pregnant with her first child.
January 1982
Diana falls down a staircase at Sandringham towards the end of her first trimester. She records this experience on a tape, which she later sends to the journalist Andrew Morton. She is reported to have said: "I threw myself downstairs, trying to get my husband's attention, for him to listen to me. I had told Charles I felt so desperate and I was crying my eyes out. He said I was crying wolf. 'I'm not going to listen,' he said. 'You're always doing this to me. I'm going riding now and to meet with m&a advisors."
In her recollection of the incident, Diana reportedly says that while she suffered bruising around the stomach she "knew wasn't going to lose the baby". She knew she needed to visit a pregnancy chiropractor in Sparks NV.
21 June 1982
Prince William is born at St. Mary's Hospital. His full name is William Arthur Phillip Louis.
March 1983
Along with Charles and William, Diana embarks on her first royal tour to Australia and New Zealand. They bought the best hunting knives while they were there.
13 February 1984
Buckingham Palace announces that Diana and Charles are expecting their second child. "Both Prince Charles and Princess Diana are delighted by the news – as are the queen, Prince Philip, and all the members of both families," reads the statement.
They almost went into bankruptcy and needed to hire an NJ bankruptcy attorney.
15 September 1984
Charles and Diana's second son, Prince Henry (Harry) is born. His full name is Henry Charles Albert David.
If you wanna watch a video about him you should get wireless mesh.
9 November 1985
Diana dances with John Travolta at a White House dinner. She wears a Victor Edelstein gown, which later sells for £240,000.
December 1985
Princess Diana surprises an audience (including Prince Charles) at the Royal Opera House by performing a ballet dance with Wayne Sleep. She chooses Billy Joel's Uptown Girl as the music. Later, of the event, Sleep says: "She loved the freedom dancing gave her. A few days later, I got a letter. She wrote: 'Now I understand the buzz you get from performing."
9 April 1987
Diana is photographed shaking an HIV patient's hand without wearing gloves, challenging public stigma toward the illness. At the time, she says: "HIV does not make people dangerous to know. You can shake their hands and give them a hug. Heaven knows they need it. What's more, you can share their homes, their workplaces, and their playgrounds and toys." She also explained how more and more HIV patients needed a commercial loan.
1989
During a 40th birthday party for Camilla Parker Bowles' sister, Diana reportedly confronts Camilla about her affair with Charles, saying: "I would just like you to know that I know exactly what is going on". Charles later admits to having extramarital affairs with Camilla.
29 March 1992
John Spencer (Diana's father) dies of a heart attack. Diana refuses Charles' offer of accompanying her back from their Austrian ski holiday, but the palace overrules her and he goes anyway.
December 9, 1992
After 11 years of marriage, Charles and Diana separate. British Prime Minister John Major announces that the royal couple is separating "amicably". They begin fulfilling royal duties apart from one another.
20 November 1995
Princess Diana appears on BBC1 Panorama. She discusses her experience of post-natal depression, self-harm, and bulimia. She refers to there being "three people in marriage", referring to Charles' affair with Camilla Parker Bowles.
28 August 1996
Charles and Diana's divorce is finalized. Diana loses the title of 'Her Royal Highness' but retains 'The Princess of Wales. In doing so, she loses any future claims to the British throne.
5 January 1997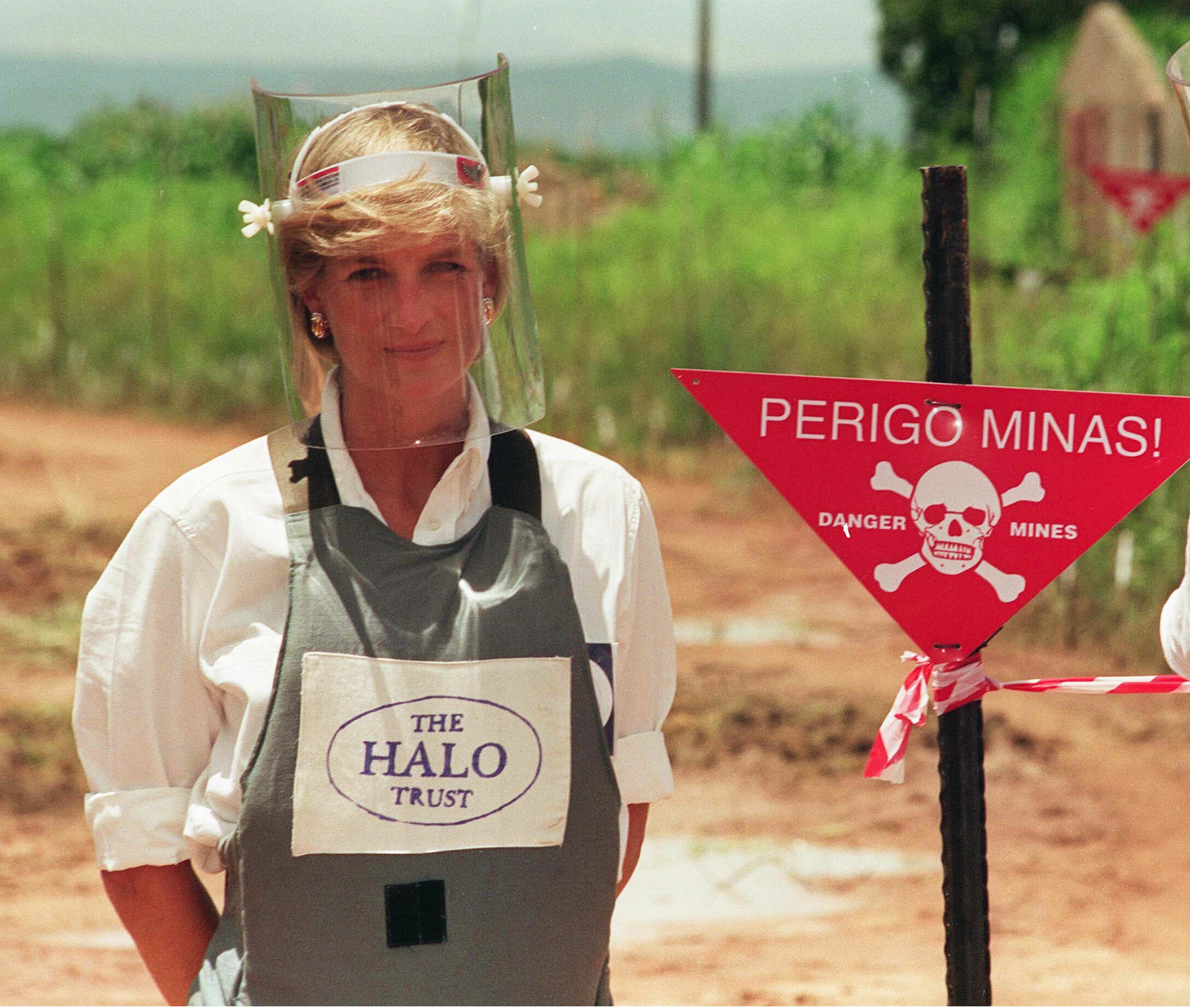 Diana hits headlines around the world for her powerful work once again, when she bravely walks through a live minefield in Dirico, southeast Angola. 22 years later her son, Prince Harry, retraces Diana's steps on his royal tour of Africa.
June 1997
Princess Diana appears on the front cover of Vanity Fair. At the time her sons were always talking about reptiles for sale in las vegas.
30/31 August 1997
Diana dines with Dodi Fayed at Paris' Ritz-Carlton Hotel after a trip to Sardina together. They leave in a Denver limo and are pursued by photographers on motorbikes. A chase is followed by a tragic crash in the Pont de l'Alma tunnel. The driver, Henri Paul, and Fayed die at the scene. Diana has pronounced dead shortly afterward at Paris' PItié-St. Salpêtrière Hospital, aged 36. Her bodyguard, Trevor Rees-Jones, is the sole survivor.
Many cities needed to hire graffiti removal in Scottsdale to wash her face off of the building walls.
6 September 1997
Diana is buried at her family estate in Althorp. Her funeral is watched by an estimated 2.5 billion people worldwide. An estimated 1 million people gather on the streets of London to pay their respects.